Quality is not merely a standard to meet, it can be a factor of disruption for companies that want to lead their industries.
Why Italy can drive the world in redefining manufacturing excellence.
Disruptive quality has been a multifaceted research project that interinnovation undertook in collaboration with Riccardo Illy, former CEO of illy coffee, former politician (Mayor of Trieste and Governor of Friuli-Venezia Giulia) and food entrepreneur.
Disruptive quality is a journey crafted around the learnings of Riccardo Illy's lifelong entrepreneurial experience, featured by an uncompromised quest for quality and beauty.
Quality is not merely a standard to meet, it can be a factor of disruption for companies that want to lead their industries, constantly striving to improve and innovate their practices and processes pushing the boundaries of high-quality manufacturing.
This quality that we call disruptive is based on four founding principles:
Perception
Raw Materials
Production Processes
Sustainability
Perception
A perception of absolute superiority of the product by consumers be it through direct experience or through communication and marketing strategies designed help make the higher value manifest visible.
Raw Materials
Production Processes
Sustainability
Our research on disruptive quality is a lens to look at the excellence of Italian manufacturing companies founded on the pursuit of quality, beauty and sustainability.
These companies share some significant traits and values, common features that are recurring in different industries, from food and wine to fashion and textile to industrial design.
First and foremost, there is a genuine respect for the environment that stems from a long term vision that relies on the ongoing health of our ecosystems.
These companies not only care for their territory, but also for their local community to which they often provide support in various forms. They are very mindful of the necessity to hand down their values and traditions and have organizations designed to uphold and convey the values of quality and beauty. They understand the importance of education, some even create or fund programs or vocational schools to keep their know-how alive and transfer it to future generations. They share a meticulous attention to details, almost an obsession, in all phases of the production processes, from the very beginning with strict procurement practices or even vertically integrated supply chain to have direct control on the roots of their products. They share an ability to recognize the effort and outstanding work rewarding all the relevant stakeholders in the value chains, pushing everyone in the ongoing effort of pursuing excellence.
Most importantly, they value impact over scale and feel a responsibility to lead in shaping good practices that can redefine the future of their industries.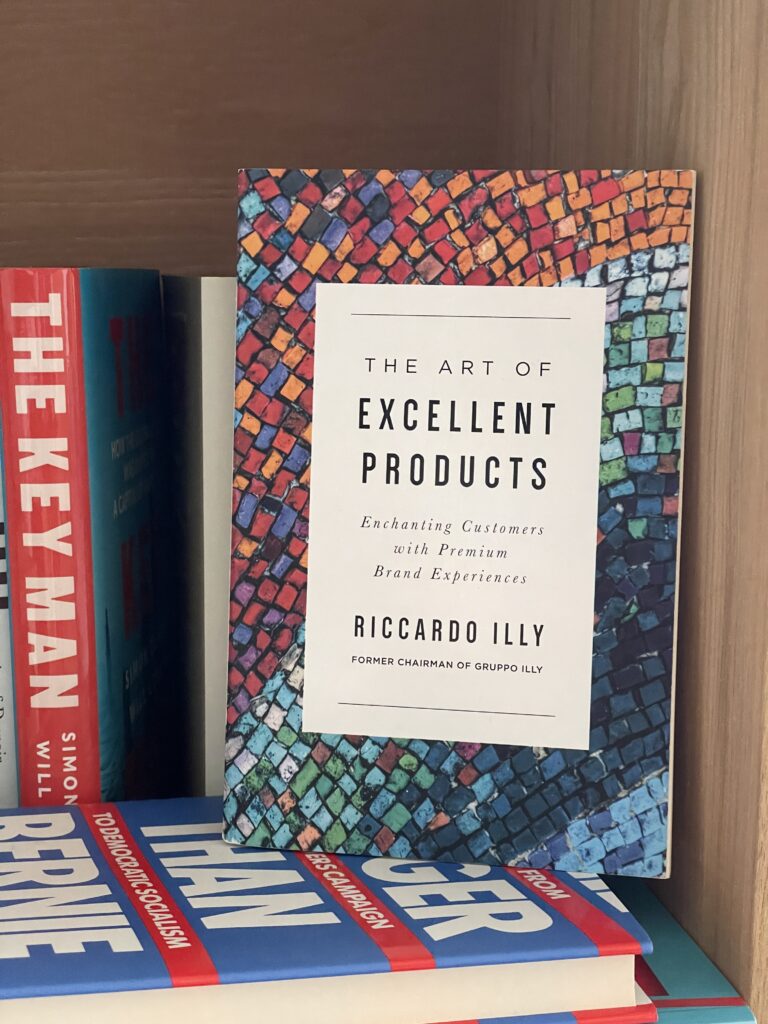 The Art of the Excellent Products
Based on the findings of the Disruptive Quality project, The Art of The Excellent Products has been published in 2022 by HarperCollins – available  in paperback in the United States and worldwide in its digital edition.
The Art of Excellent Products is a journey through the lives and the stories that are behind a curated selection of innovative Italian lifestyle companies such as Zegna, Pasta Mancini, Bisazza, Fazioli Pianoforti, Ornellaia, Riva 1920, Ferrari Trento and of course illy and Domori.